Madison County, New York
Madison County is located in the center of New York State, offering relocating and expanding businesses strategic logistical advantages, access to higher education, and a wide selection of shovel-ready properties.
An Exceptional Location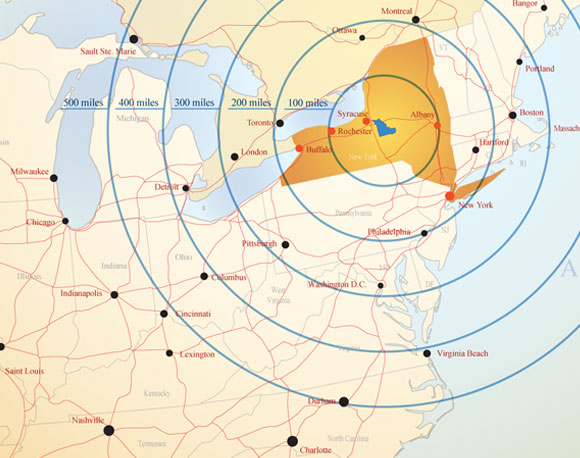 Located in the geographic center of New York State, Madison County is nestled between Syracuse and Utica-Rome and a regional population of one million people. Its location offers businesses exceptional transportation options, including ready access to Interstates, Class I rail, airports, and barge access to the St. Lawrence Seaway and the Great Lakes.
Madison County, New York, has a regional workforce of over 433,000, with strengths in agriculture, alternative energy, back office & call centers, logistics & distribution, and manufacturing. There are numerous industrial parks, as well as a deep inventory of available sites and buildings, many of them shovel-ready, to speed your time to market. Madison County itself is largely rural, with lots of wide open spaces and a cost of living that is 10% lower than the U.S. average. A vibrant Community Supported Agriculture program brings locally-grown food to residents nearly year-round. And the big-city amenities of Syracuse, Utica and Rome, New York, are only an hour away. Seventeen area colleges and universities provide workforce training and education, and also enhance the region's high quality of life. Madison County's energetic college-age population that is 45% larger, on a percentage basis, than the U.S. average.
Contact us to learn more about the advantages of growing your business in Madison County, New York. Madison County
Small Business Assistance Programs
Meeting Notice:
Richard, Bargabos, Chairman, has called  meetings of the Madison County IDA and CRC for Thursday, November 16th, 2023 at 3:00 pm, at the Madison County Center for Economic Development in Canastota.
For live streaming IDA meetings and recordings please visit our YouTube channel
CNY Upstate Revitalization Proposal
Madison County Economic Development Information
Economic_Impact_of_IDAs-NYSEDC
Madison County Strategic Economic Development Executive Summary
FACT SHEET Madison County 2019
Madison County Long Term Economic Development Plan
The creation of this website was assisted with a grant from National Grid, through the NYS Public Service Commission approved Economic Development Plan.