Local Advantages
Madison County, New York is the ideal location.
Madison County, New York is located at the geographic center of New York State, between Syracuse and Utica-Rome. Oneida Lake and Oneida Creek form the county's northern boundary, while Chittenango Creek defines the western boundary.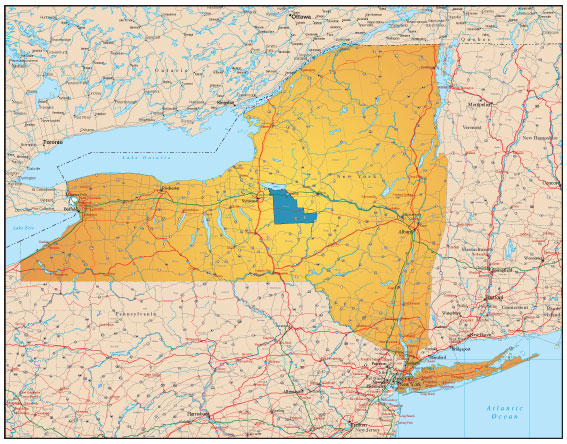 Madison County, New York is close to interstates, a Class I railroad, many major airports, and the Port of Oswego, with connection to the St. Lawrence Seaway, the Great Lakes, and Europe.
It is within 500 miles of the major population centers of New York City, New Jersey, Boston, Detroit, Philadelphia, Toronto and Montreal.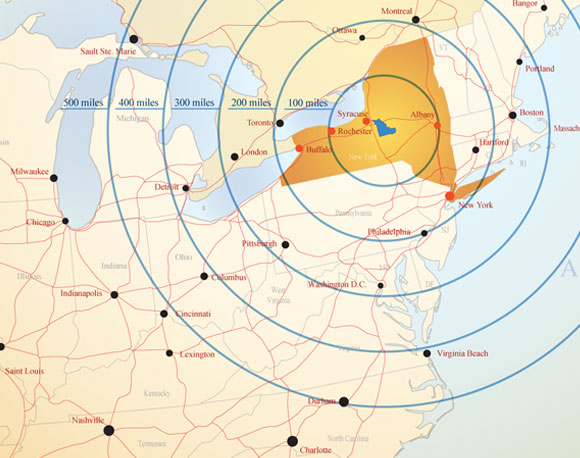 Madison County is a major agricultural center, expanding from its strong base in the equine industry into value-added agriculture. The equine focus includes our higher education concentrations at both Morrisville State College and Cazenovia College, hundreds of miles of public land available for recreational riding, along with our close proximity to Vernon Downs and Saratoga Springs race tracks. However, Madison County's primary agriculture is dairy – including growing feed, milking, and value added milk processing.
There is an abundant and excess supply of water, a natural advantage for manufacturing, agriculture, and other industrial sectors. Combine this with New York State's well-known electrical power reliability and a healthy wind and solar industry, relocating and expanding businesses will find a wealth of natural resources for their growing businesses.
Contact us to learn more about the advantages of growing your business in Madison County, New York.